Plymouth Diving is based at the state of the art Plymouth Life Centre.
In 1992 the diving training scheme was set-up by Andy Banks and whilst Andy is still involved the Squad Training scheme is run by Sally Freeman.
Following the Olympic bronze medal by Tom Daley in 2012, the Life Centre is full to brimming most nights with divers aged from 5 up to 25!!
There is a class for everyone, from Weeny Dive for 5-7 year olds, Dive 1-4 for 5-12 year olds, Teen Dive on Monday and Wednesday for 13-16 years followed by Adult dive for 16+. Bookings for these lessons are taken by Jess Taylor on 01752 608747.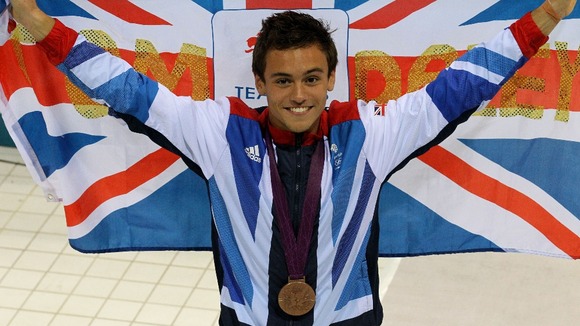 The annual Christmas Competition is fast approaching and we are now accepting entries from any divers in Dive 3, Dive 4, Weeny Squad , Mighty Minis and above.
The aim of the competition is that children try out some low level, fun events to improve their confidence – with everyone taking home a reward!
The entry fees are £5 – but FREE of CHARGE if you normally dive between 11.30 and 3.30pm on a Saturday anyway. As these lessons are cancelled for this date, if you'd rather not dive in the competition and still want your lesson – we can offer you a different day for your lesson.
Entries should be handed to your coach in a named envelope or to any of the club committee – Helen, Becky, Ali, Kelly or Lesley.
There will also be some Plymouth Diving merchandise available and a raffle as well as a sweetie tuck shop!
See the entry form and invitation below.
Choose from the following courses this October holiday:
Crash Course               Beginners and Dive 2                           Mon-Fri            9.15-10am
Skills Clinic                  Dive 3, 4, Aquabats, Mighty Minis           Thurs      10-12noon
Pay As You Go           Aquabats & above                                          Thurs 10-12
Development Day     Mighty Minis / Aquabats / Development      Fri      10-3pm
1:1′s are available between 12 and 1pm all week and from 10am-1pm on Thurs and Fri
Book through Sally on (Enable Javascript to see the email address) or directly through one of the Front of House team at the Life Centre.
HAPPY HOLIDAYS EVERYONE!
Still tickets available for the upcoming Dinner Dance on Saturday 9th November, at the Holiday Inn on the Hoe.
See the menu choices below and contact Kelly Bowen on (Enable Javascript to see the email address) to book your ticket
PLYMOUTH DIVING DINNER & DANCE MENU
 STARTERS
 Melted Goats Cheese, Toasted Croute, Red Onion Marmalade, Lambs Leaf Lettuce, Balsamic Syrup (GC)
 Barbican Seafood Salad, Lemon Dill Mayonnaise, Fresh Crusty Bread (SS)
 Chicken Liver Pate, Red Onion Marmalade, Toasted Bloomer Bread (CP)
 MAINS
Breast of Bacon wrapped Chicken, Seasonal Vegetables, Potatoes (C)
 Wild Mushroom & Spinach Tart, Mustard Leeks, Fondant Potatoes (M)
 Roast Rump of Lamb, Herb Mash, Seasonal Vegetables (L)
 DESSERTS
Lemon Tart, Cornish Clotted Cream, Raspberry Coulis (LT)
 Double Chocolate Mousse, Baileys Cream (CM)
 Strawberry & Profiteroles Kebabs, Chocolate Sauce (SP)
Yes it's that time of year again folks…… the annual Dinner Dance and this year at a new venue…… The Holiday Inn!
Check the link below for more details…. see you there!
There are now some one hour 1:1 slots available for squad divers – ideal if they are shared between two!! £29 for the hour
Wednesday 5-6pm
Thursday 4-5pm and 5-6pm
Friday 4.30-5.30pm
These must be arranged in advance with Sally and receipts must be brought to poolside. Email Sally for availability.
From Friday 18th October we are running a second Pay as You Go session for all squad divers (Aquabats – Teens – Mighty Minis – Age Group – A Team – Development Squad).
This is in addition to the Saturday session that some divers cannot now make due to a change in their diving times.
The session will run from 5.30-7.30pm – dryland first – and will be run by Kathryn. Cost is £8. Ideal for preparing for competitions  or just as an added extra for diving addicts!!!
The Saturday PAYG has been re-instated to the 1.30-3.30pm slot! The only ammendment is Saturday 12th October when Jess is away at the White Rose so the session is cancelled.
You can book PAYG sessions at reception or by emailing Sally.
For your information, click below for the current ASA newsletter with lots of information about diving
Just a reminder to all that details about buying club kit, including wrist guards, is available on the diving balcony on the noticeboard and by emailing (Enable Javascript to see the email address)
For all squad divers we have the usual array of crash courses available during the holiday break, starting Wednesday 24th July:
Wednesday's : 10-12      Pay as You go squad diving      B/D/A Group/ Novice
Friday's: 10-3pm             Development Day      Age 8+    B/D/A Group/Novice
Saturday's: 1.30-3.30pm   Pay as you Go diving          B/D/A Group/Novice
Monday's: 10.30-12.30      Skills Clinic                  Dive 3/4 and Novice only
Tuesday's: 10-1pm (From 13 August)     Mini Camp    Age 5-8 only                    Dive 3/Weenies/Dive 4
ALL of the above include dryland training so children should bring shorts – t shirt – socks – and a drink! Development day children will need a packed lunch.
For Dive 1 and Dive 2 children or brand new divers, we have crash courses running 9.15-10am every weekday – £24.50 for the week
PLEASE NOTE: DURING THE WEEK BEGINNING 5TH AUGUST THE ONLY COURSES RUNNING ARE DIVE 1/2 AND SKILLS CLINIC – THIS IS DUE TO A VISIT FROM A NORWEGIAN DIVE TEAM
Book in with Sally on 01752 608747 or (Enable Javascript to see the email address)